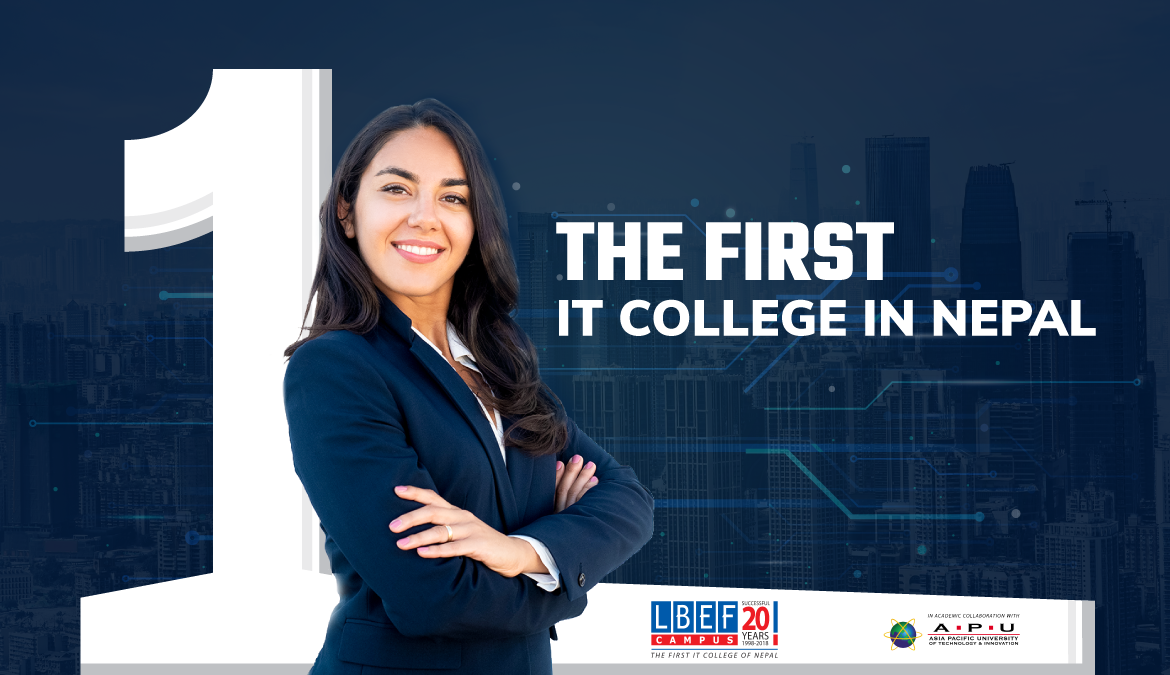 LBEF Campus: The First IT College in Nepal | Explore the world of Opportunities
Information Technology (IT), in itself, is a complicated field with strings of zero's and one's forming a complex web of opportunities. Add the variety of courses and specializations to this mix, and it is enough to make you want to rip your hair off your head in frustration. With so many options to choose from, you might be even more confused about which course to take, and which IT college in Nepal to choose from.
Before you jump at the chance of indulging in this sector, it's important to understand that there's more to IT than coding and hacking. To explore this field, you should choose the best IT college in Nepal.
Approved by the Ministry of Education with international degrees awarded by Asia Pacific University (APU), Lord Buddha Education Foundation is the first IT college in Nepal. With institutional recognition from Tribhuvan University, LBEF is an IT college in Nepal in a class of its own. Here are some of the key features that make this IT college in Nepal stand out:
Elaborate courses
Considering the diverse portfolio of expertise that can be achieved in this field, as the first IT college in Nepal, LBEF offers an expansive range of courses. This includes advanced courses like B.Sc (Hons.) IT, B.Sc (Hons.) IT- Network Computing, B.Sc. (Hons)IT- Database Administration, B.Sc (Hons.) IT- Cloud Computing, M.Sc ITM (Morning), and M.Sc ITM (Weekend). These courses do not just focus on the academic side of computing, but also facilitate practical application. With these courses from our IT college in Nepal, you genuinely learn to navigate your way through the wide array of technicalities in this field.
Learning for employability
Imagine going to a job interview for the post of software developer, You are confident about the things you have learned at your previous IT college in Nepal, but when the interviewer asks you to fix a minor bug in a program, you become clueless. This is what happens when you learn for the sake of learning – you might be the topper of your batch, but you may not have a single idea about where or how to apply your knowledge.
You see, today, employers are looking for qualified people who not only have the technical know-how but are also innovative and flexible. As an IT college in Nepal, we go above and beyond the aspects of theoretical teaching. At LBEF, our programs are developed to help you form interesting and stimulating modules, and foster your ability to take on workplace challenges. We teach you to learn, develop and adapt with the help of our Five I's Model. We are the first institution in Nepal to introduce Outcome-Based Education (OBE). 
Training and placement cell
At LBEF, we have a dedicated Training & Placement Cell that works to put our students in reputed multinationals, NGOs, INGOs, and private sector organizations. As a reputed IT college in Nepal, probably the best IT college, we take it upon ourselves to develop and groom our students with the requisite skill sets to meet the dynamic needs of the industry.Twelve weeks of Internship is mandatory for all the students pursuing a bachelor's degree program at LBEF CAMPUS. 
Our Training & Placement Cell acts as an interface between the corporate world and our students at LBEF. Placement cell assists our students in making better and informed career choices with the help of intensive and comprehensive trainings, internships, industry projects, guest lectures, and seminars. 
Facilities
To ensure that we create the best learning environment there is to provide at an IT college in Nepal; we have an arsenal of facilities at our disposal:
Library
Being an IT college in Nepal, we understand it more than anyone that information is of the essence. For this very reason, our library houses more than 5000 books with subscriptions to 15 print newspapers and 6 magazines. These range from information about the IT sector, along with business management and innovation in general. Our e-library section also has access to Proquest, an online database with more than a hundred thousand books, scholarly journals, and other Internet resources. Beside the Proquest library, all the students enrolled under Asia Pacific University (APU) programs get access to leading 10 online libraries like IEEE, Science Direct, ACM, Emerald, etc. Probably LBEF CAMPUS is the only private campus in Nepal that provides access to all these e-libaries. 
Computer Labs
To provide our students with a stimulating, interactive and accessible course of study, we have five well-equipped computer laboratories. These have been set up to meet the requirements of the computing courses. 'NETSIM' – Network simulator for teaching/network lab experimentation has been installed in one of our laboratories. Project area
At our IT college in Nepal, we consider teamwork and collaborative learning to be imperative. Thus, apart from the full-fledged laboratories, there are smaller sized project rooms equipped with the necessities for our students to plan and work on group projects.
Learning area
While we often assign challenging tasks to our students and focus on interactive learning within the classroom, we also understand that they need separate spaces to work. For this, we have a distinct space designed as a student learning hub at our IT college in Nepal. 
Corporate Readiness Programme
To bridge the gap between academia and industry, we have collaborated with Manipal Pro-Learn to offer more than 50+ online certification programs. This program will help our students to face the industry with more confidence and make them future-ready. These training will make our students equipped with the right workspace skills. These training will help our students to master a topic of their choice. These training programs are divided into different domains like Business Skills, Digital Marketing, Finance, Analytics & Data Science and Software Developer & Coding Skills. 
With competent faculty, holistic teaching approach and collaborative learning environment, Lord Buddha Education Foundation (LBEF) Campus is the first IT college in Nepal and now probably the Best IT College in Nepal. From its humble beginnings, the college has made steady progress and today stands as one of the leading colleges in Nepal with over 1,000 students.
Recognized as an esteemed IT college in Nepal, LBEF has also imparted computer training to 500 students on behalf of the Ministry of Science & Technology, along with 6800 women under a WFE and AGWN program. We firmly believe that education is an integral part of growth, and we make it our constant endeavor to provide the best of facilities and resources to our students.
Join us to be a part of this remarkable experience, or contact us for more information.