We deem LBEF to be a laboratory for the students where they are given freedom to make mistakes and learn from them; to become ready before they enter the corporate world.
Once the student enters LBEF, the college takes complete care and responsibility to develop and groom the students with the requisite skill sets to meet the dynamic needs of the industry.
We have a dedicated Training & Placement cell which is an integral part of our institute. It's main endeavor and effort is to place the students in reputed multinational, NGOs, INGOs and private sector organizations.
The Training & Placement cell acts as an interface between the corporate world and the students at LBEF,  enables the students to make better and informed career choices. Intensive and comprehensive trainings, internships, industry projects, guest lectures, seminar, an interactive and independent placement cell, all of which give the students at LBEF the required boost for a career head start to compete in today's globally competitive environment.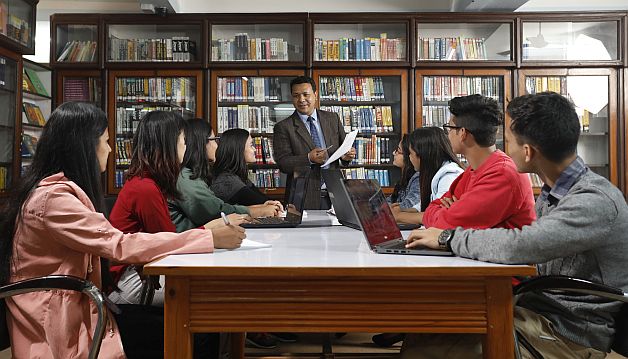 The cell is headed by a Training and Placement Officer (TPO) and has a representative from each of the faculties and colleges under LBEF umbrella.
We are not only passionate about shaping the career of our students, but we are equally inquisitive in knowing how our students are fairing in the competitive world. We have produced employable graduates from our institutions. It is mandatory for all the students to do internship in reputed organizations.
Our alumni work in the most prestigious companies in Nepal. Some of them are:
Various Departments of Government of Nepal.
Nepal Police
Nepal Army
Nepal Telecom
Ncell
FNCCI
Verisik Technology
Different 'A'Level Banks like Nepal SBI, NMB Bank, Nabil Bank etc.
Javra Software
Janaki Tech
F1 Soft
Worldlink Coummunication
Kantipur Media House
APCA House
Computer Association of Nepal.
Student Support and Guidance
Induction
At present we organize 2 days introduction and orientation session in the beginning of every course. It is mandatory for all the students to attend. During these sessions students are briefed about the academic system, evaluation system & students code of conduct. We also distribute the academic planner to all the students. During these sessions students are briefed about the Department's rules and regulations, the procedure for academic activities such as sessional tests, assignments, seminar presentations, summer training, semester examination, papers to be taught with the names of the teachers, etc.
Personal tutors
We conduct one to one remedial classes for weak students. Students can contact their tutors using online tools.
Tutorial support
Students are divided into group of 6 students and a tutor is allotted as 'Local Guardian' to each group. The local guardian helps students in all possible ways. Students can contact their 'Local Guardian' in case any additional support is required. Local guardians are first contact point for all the students in case of any problem.
Classroom teaching is never enough. We clearly understand this, and therefore tied up with different companies for regular industrial visits for new batch of students. The learning at the factory is fun and great backed with immense and detailed insights offered by the guide (always one of the important employee / professor of the organization) to our student that they would have otherwise missed.
We do give some leisure time to our students so that they get to know each other well. We take them for outings. We also organize intra college sports competition where the faculties also participate as one of the competing teams.
Training has its own share of importance and has also been an essential part of a student life at LBEF. We understand the need to bridge the gap and elevate the competency level of our students. This is achieved by conveying continuous training programs based on the needs of our students.
We have delivered over 1500 man-hours of training on various need-based modules during the academic year 2017-2018.