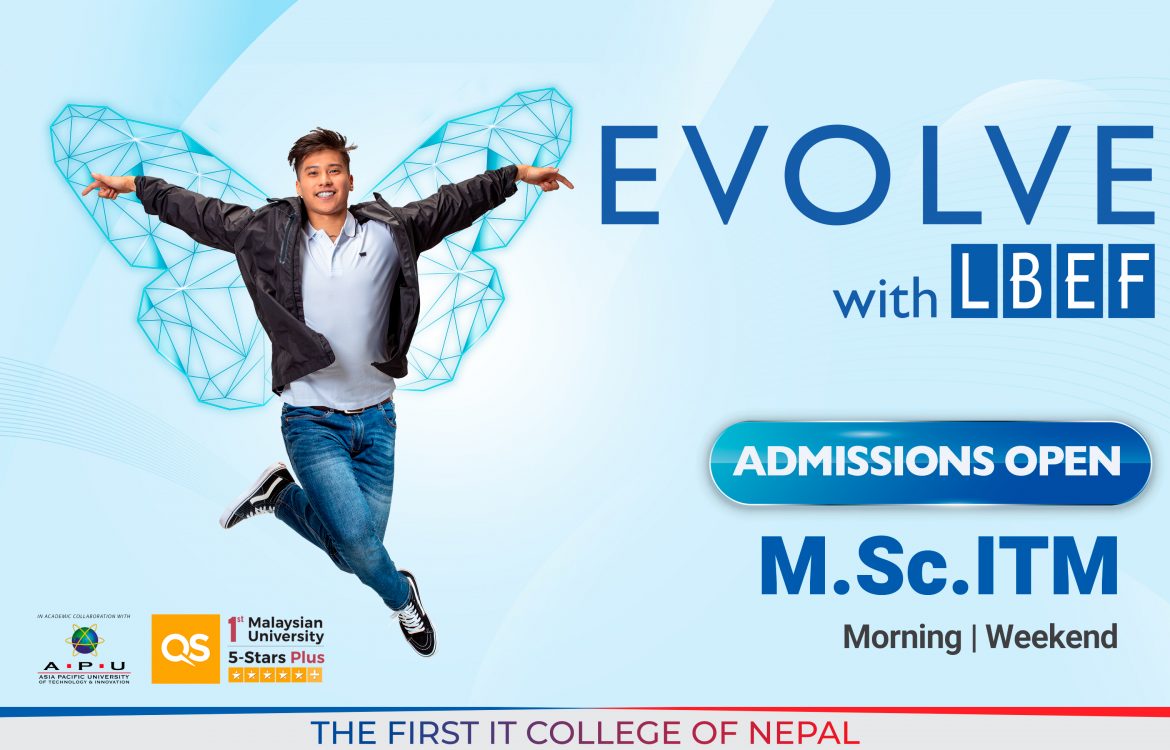 M.Sc. ITM (Weekend)
63 Credit Hour
M.Sc. (ITM)-Weekend
Rs. 6,10,000*
English
| Duration | Credits | Class Timings |
| --- | --- | --- |
| 2 Years (4 semesters ) | 63 Credit Hours | Friday 4:30PM to 8:30PM, Saturday 8:00AM to 4:00PM |
This programme is specifically designed to provide:
An opportunity to demonstrate how the application of computer-related technology is an integral part of an efficient business environment.
An emphasis on the understanding of how an effective computer system is a key factor in enabling a business to gain a competitive and strategic edge.
An overall consideration of how IT can be managed in the organisation.
An understanding of how strategic IT frameworks can be established to enhance the capability of the organisation.
On successful completion of this programme, you will be able to:
Demonstrate professional competencies in one or more specialist branches of IT Management.
Draw upon the body of theoretical and technical knowledge available and be able to use this to professional advantage.
Communicate effectively in technical and professional environments.
Show initiative and independence of thought in technical project planning and design.
Appreciate how an efficient technology-based infrastructure is a key factor in enabling a business to gain a competitive edge.
Demonstrate a critical awareness of the importance of IT in the development of systems.
Develop an appreciation of the management context within which software and IT systems are developed.
Critically analyse, design, and evaluate possible developments in a specialised area of discipline to further the knowledge and understanding of an IT management environment.
Corporate Readiness Program
Enabling our IT graduates become industry-ready by acquiring and reinforcing the knowledge, skills and attitude required to deliver organizational goals.
Corporate Readiness Programme is provided with a pure objective of helping our students to discover the path to a rewarding career. Corporate Readiness Programme is a customized set of courses that'll take you on a journey of learning and help you become a successful and future ready professional. Under this programme we offer more than 50 industry relevant online certification training courses, worth above NPR 6 lakhs, along with your degree to enhance job readiness.

The programme comprises 15 coursework modules, the Research Methodology Module, and a major dissertation.
Core Modules
Technology Management
Integrated Systems Management
Strategic Planning and Systems Development
Internet Applications
Object-Oriented Software Systems Engineering
Information Security Architectures
Knowledge Management
Enterprise Applications
Software Quality Engineering
Data Management
Information Technology Project Management
Research Methodology in Computing and Engineering
Network Design & Performance
Technology, Culture, and People: A Global Perspective
Software Engineering Support Environments
Entrepreneurship
Dissertation
Training in research methods, through the Personal Development and Research Methods Module, in addition to close supervision, will encourage you to develop your research skills so that you can complete your major project/dissertation efficiently. You are encouraged to complete industry-based major projects/dissertations that are relevant to your work and organisation or any substantial idea from the modules taken.
The project should emphasise how an effective computer system is a key factor in enabling a business to gain a competitive and strategic edge. This would usually involve devising, recommending or implementing an innovative solution to a problem area.
This programme is geared towards industry or business professionals who are seeking to develop their careers in the management of technological systems and / or their production for the benefit of organisations. Managers within organisations where information technology plays a vital role in the managerial functions and the efficient operation of the organisation will find this programme very useful.
Senior IT Consultant
IT Recruitment Consultant
IT Manager
IT Project Manager
Technical Support Manager
Chief Technology Officer (CTO)
Chief Information Officer (CIO)
IT Infrastructure Manager
Innovation Manager
IT Director
Degree of M.Sc. (ITM) will be awarded by Asia Pacific University of Technology & Innovation. M.Sc.(ITM) is recognized by Tribhuvan University as Master's Degree in relevant subject.
College for Professional Studies has been approved by the Ministry of Education, Nepal Government to run the courses from APU, Malaysia at Kathmandu, Nepal.
Asia Pacific University (APU) received international recognition by Quacquarelli Symonds (QS) in 2017 with APU being awarded 5-Star in four categories of the QS Stars Rating – Teaching, Employability, Facilities and Inclusiveness. The QS Stars rating measures achievements of universities worldwide.
Bachelor's degree in IT/Computer Science and related areas with a minimum CGPA of 2.75 or equivalent as acceptable by the Senate  OR;
Bachelor's degree or equivalent but for CGPA below 2.75; can be accepted provided that the candidates must have 5 years working experience in relevant field OR;
Graduates of equivalent qualifications who have several years of relevant industry experience. (Subject to approval from the Uniersity) OR;
Evidence of satisfactory English language skills is required for candidates where English is not their first language.