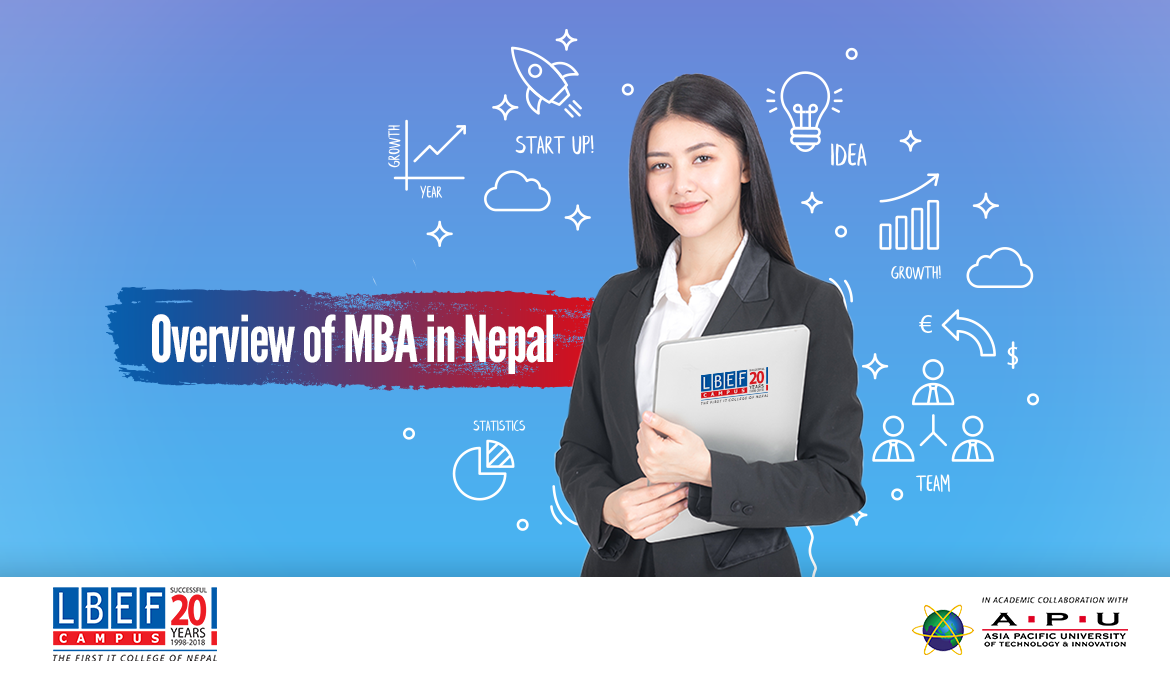 Overview of MBA in Nepal | LBEF Campus
Unlike popular belief, Nepal is no longer "a small country sandwiched between two giants." Currently, Nepal is progressing at an accelerated rate, courtesy of the businesses flourishing here. The world is your oyster – and these businesses are looking for fresh faces and brilliant minds to enter the workforce. So how can you stand out from the swarm of people seeking to make a mark in the market?
Pursue a degree in MBA in Nepal.
Why? Studies have shown that an MBA degree not only yields a positive return on investment (ROI) but also helps you add value to yourself and receive a better pay grade – which reflects well on your resume. Furthermore, it can also help you improve yourself personally, build networks and develop relationships.
The scope of MBA in Nepal far exceeds the financial aspect of the degree:
The most evident benefit that you can get from an MBA in Nepal is the network you build over the years. This network can assist you to navigate your way through the job market by knowing the right people in the right places.
Plus, when you're pursuing an MBA in Nepal, you can pick an area of expertise that you think is the best one for you. Taking into account how unique every individual's interests are, LBEF Campus offers this degree in three different specializations: Finance, Marketing, and Human Resource Management. Moreover, to ensure that you make the most of your MBA in Nepal, we also have a Training & Placement Cell that organizes intensive and comprehensive trainings, internships, industry projects, guest lectures, and seminars.
Grow further, earn better
Getting an MBA in Nepal strengthens your credibility, which in a way, reflects that you're serious about your work. With this ace up your sleeve, you can land a desirable job and further negotiate for a higher pay grade and a better position. Additionally, this degree can help you progress up the corporate hierarchy faster than your Bachelor's degree.
Of course, Only a few colleges offering MBA in Nepal can give you the best experience you need. For instance, LBEF Campus offers an international MBA degree from Asia Pacific University of Technology & Innovation, which is simultaneously recognized by Tribhuvan University. LBEF CAMPUS offers MBA in weekend shift for executives or working professionals. 
It's a known fact that your career or your business will eventually be affected by global issues in the long run. This is when you'll have to gear up to deal with the complexities of the global market. Enter: an MBA degree. Studying MBA in Nepal – especially a degree awarded by an international university – can go a long way to provide you with the global experience you need. At LBEF Campus, we provide an advanced MBA degree that is conferred by Asia Pacific University. With this MBA degree, you'll be able to earn an international degree in Nepal, understand the local scenario and generally get the best of both worlds. 
You may have come across a notion that pursuing an MBA in Nepal means that you'll have to put your career on hold to focus on your studies. Worry not, we've got you covered in this aspect too. You see while studying MBA, you'll be exposed to different global, social and business issues – all the while collaborating and sharing experiences. Especially, in the case of MBA weekend, you can connect with professionals currently working in different fields.
This works in your favour in two ways: you'll be able to complete your MBA in Nepal while simultaneously pursuing your career. Secondly, you'll learn skills that can complement your existing body of knowledge. How? At LBEF Campus, both morning and weekend MBA in Nepal include advanced courses such as Managerial Economics, Statistical Decision Making, Global Strategic Management, Technology Management, among others.  LBEF follows outcome-based education to impart industry-relevant education and to ensure that students are employable after their graduation. Outcome-based Education (OBE) is developed as a response to Industry 4.0, in order to create trained, qualified professionals who are ready for a highly globalised and digital-driven world of work.
Despite popular belief, just because you're studying MBA in Nepal doesn't mean that you have to aim for a high paying desk job. Your executive degree can be a means for you to act on your business idea and embrace your entrepreneurial spirit. After all, an MBA is meant to develop your skills and help you tap into your potential. Without a doubt, you'll face tough challenges that can make you break some sweat. However, by the time you become a graduate of MBA in Nepal, you'll learn to weave your way through that complicated mess of real-life problems.
MBA in Nepal is more valuable now than it has ever been before. At LBEF Campus, we offer MBA degrees in both morning and weekend shifts for better flexibility. We enable you to contextualize, analyze and learn from experience or simulated environments taking a wide perspective upon contemporary developments and research in the field of business.
For more information, contact us.